Pipe Welding Equipment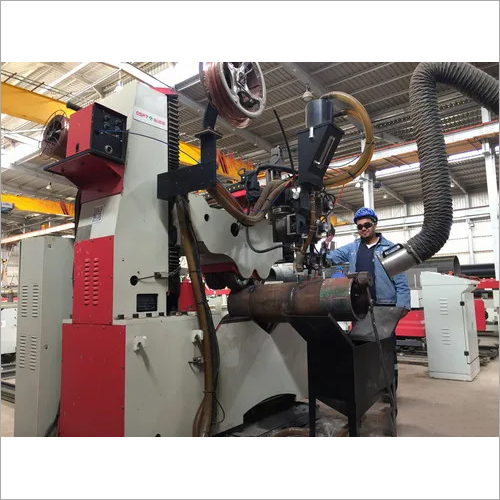 Pipe Welding Equipment
Price And Quantity
Set/Sets

25000.00 - 40000.00 USD ($)
Product Description
We are widely accepted name in industry in manufacturing, exporting and supplying Pipe Welding Equipment. This equipment is manufactured in accordance with set international quality standards using quality-approved components under the vigilance of our diligent professionals. Our offered equipment is widely used for fabricating and welding pipes and is designed to reduce labor charges. Our offered equipment is made available in various specifications to fulfill the varied requirements of our clients. The offered Pipe Welding Equipment can be owned from us at rock-bottom prices.
Enhance Your Welding Efficiency with Cutting-Edge Pipe Welding Equipment
When it comes to high-quality welding, having the right equipment is crucial. Introducing our advanced Pipe Welding Equipment, designed to elevate your welding capabilities to new heights. With its cutting-edge features and exceptional performance, this equipment is your key to achieving precise and efficient welds.
Our Pipe Welding Equipment is meticulously engineered to meet the demands of various welding applications. From small-scale projects to large industrial operations, this versatile equipment adapts to your needs with ease. Whether you're working with stainless steel, carbon steel, or other pipe materials, this equipment delivers consistent and reliable results.
Featuring state-of-the-art technology, our Pipe Welding Equipment offers advanced automation features that streamline the welding process. This automation ensures precise control over key welding parameters, such as voltage, current, and wire feed speed, resulting in impeccable weld quality. Say goodbye to guesswork and hello to accurate and repeatable welds.
Safety is always a top priority, and our Pipe Welding Equipment exceeds industry standards. Equipped with comprehensive safety features, including protective shields, emergency stop buttons, and fault detection systems, it ensures a secure working environment for operators. You can weld with confidence, knowing that your team is protected at all times.
What sets our Pipe Welding Equipment apart is its unmatched efficiency. By automating time-consuming tasks and optimizing welding parameters, it significantly reduces production time. This efficiency translates into cost savings and increased productivity, allowing you to take on more projects and meet tight deadlines without compromising on quality.
Versatility is another hallmark of our Pipe Welding Equipment. With its adjustable settings and compatibility with various welding techniques, such as TIG, MIG, and stick welding, this equipment caters to a wide range of applications. Whether you're working in construction, manufacturing, or maintenance, this equipment is your go-to solution for precise and efficient welds.
Investing in our Pipe Welding Equipment is an investment in the success of your welding operations. By harnessing the power of cutting-edge technology, you can elevate your business to new heights. With its exceptional performance, reliability, and efficiency, you gain a competitive edge in the industry and deliver superior welds that meet the highest standards.
Don't settle for average welding equipment. Upgrade to our Pipe Welding Equipment today and experience the difference it makes in your welding projects. Contact us now to learn more about this innovative equipment and how it can transform your welding operations for the better.
Features:


Pipe Diameter Applicable: DN50-600 (60-610)
Pipe Wall Thickness Applicable: 3-30mm
Pipe Length Applicable: 400-8000mm (for pipe dia <400 mm, adopt to auxiliary method to welding)
Applicable Materials: Carbon steel, alloy steel , stainless steel and cryogenic steel
Welding Line Applicable: Various welding lines of spool pieces such as pipe-pipe, pipe-elbow, pipe-flange, flange-flange and flange-elbow, etc. (a fake pipe transition connection shall be applied if necessary)
Clamping System: Clamping arm move up and down by screw
Control System: PLC control and indication by text display


Oscillating System


Oscillating Mode: Adjustment by electric cross oscillator . drive by step motor
Adjustment Mode: Welding swing. swing around the frequency and left and right pause time, etc. by electric cross oscillator to adjustment of stepless
Adjustment Way: Swing parameter (welding swing, swing frequency and left and right pause time) use to button + digital display adjust way


Welding System


Adjustment Mode: Work piece rotation variable frequency, step less adjustable (stable). cross arm stretch the length of electrical, step less adjustable
Adjustment Way: Work piece Rev speed/welding speed adjustment using knob + digital way. cross arm of extending length of use of buttons
Welding Procedure: FCAW/GMAW/GTAW welding process for root pass welding
Welding Power: OEM products in China (or as per customers demands)