Pipe Beveling Equipment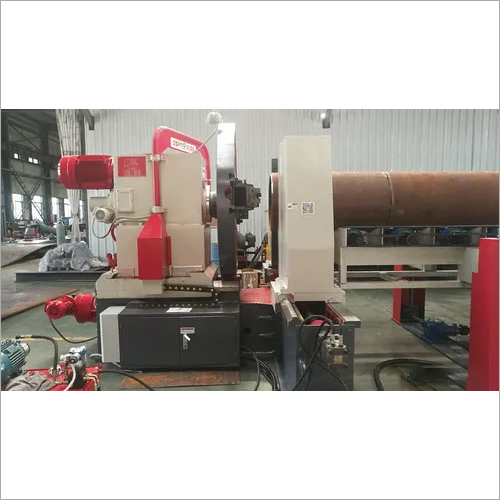 Pipe Beveling Equipment
Price And Quantity
Set/Sets

30000.00 - 60000.00 USD ($)
Product Description
Pipe Beveling Equipment is a hand-held machine that is used to bevel pipe ends on the job. One person usually operates pipe beveling devices. The machine is fastened on or in the pipe to machine the pipe ends, and a revolving tool holder with cutting tools is used to do so.
Achieve Flawless Pipe Bevels with Top-of-the-Line Pipe Beveling Equipment
When it comes to precise and efficient pipe beveling, our cutting-edge Pipe Beveling Equipment takes center stage. Designed with advanced features and unparalleled performance, this equipment revolutionizes the pipe fabrication process, delivering flawless bevels every time.
Our Pipe Beveling Equipment is engineered to meet the demands of various industries, from construction to oil and gas. Whether you're working with stainless steel, carbon steel, or other pipe materials, this equipment provides exceptional versatility and adapts to your specific beveling requirements.
Featuring state-of-the-art technology, our Pipe Beveling Equipment offers advanced automation capabilities that streamline the beveling process. With precise control over key parameters such as bevel angle, cutting speed, and feed rate, you can achieve consistent and accurate bevels with ease. Say goodbye to manual errors and uneven bevels!
Safety is paramount, and our Pipe Beveling Equipment prioritizes operator well-being. It comes equipped with comprehensive safety features, including protective enclosures, emergency stop buttons, and automatic shutdown mechanisms. You can trust that your operators are protected during the beveling process, minimizing the risk of accidents or injuries.
What sets our Pipe Beveling Equipment apart is its exceptional efficiency. By automating the beveling process, it significantly reduces production time and enhances productivity. With its high-speed cutting capabilities and precise beveling results, you can meet tight deadlines without compromising on quality, boosting overall efficiency and profitability.
Versatility is another standout feature of our Pipe Beveling Equipment. It handles a wide range of pipe sizes and wall thicknesses, allowing you to tackle diverse projects with ease. Whether you're working on small-scale installations or large industrial applications, this equipment ensures precise and consistent bevels every time.
Investing in our Pipe Beveling Equipment is an investment in the success of your pipe fabrication operations. By leveraging cutting-edge technology, you gain a competitive edge in the market and deliver superior bevels that meet the highest standards. With its exceptional performance, reliability, and efficiency, you can take on complex projects and surpass customer expectations.
Don't settle for subpar beveling equipment. Upgrade to our Pipe Beveling Equipment today and experience the difference it makes in your pipe fabrication projects. Contact us now to learn more about this innovative equipment and how it can transform your beveling operations for the better.
Pipe Beveling Equipment Features:
Designed for large-scale pipe end beveling and facing operations.
Workshop, cold cutting technique, fast, precision CNC beveling
Setup and operation are simple.
Suitable for large-scale pipe beveling operations.
Pipe beveling equipment comes with high speed
It and a prefabricated pipe beveling manufacturing line.
High-Speed Pipe End Beveling Machine can be formulated in the workshop using a highly efficient logistics system
Integrated circulating water cooling system extends the life of the machine and tools.
Applications:
Our machine is suited for pipe end beveling and facing preparation of all types. For huge production numbers, Copier develops stationary pipe beveling machines that are fast, accurate, and robust. Pipe Beveling Equipment operates on a PLC screen with just one button to shift things around automatically.
Specifications:
The offered machine requires a bevel angle of tool rest is 0 degree to 37.5degree
Gear shift for the main shaft, VF speed change for axial direction movement, and manual control
Widthwise Displacement: +-50mm/+-100mm
Can be equipped for roller conveying system if necessary
This machine can be equipped with a lifting device for mechanical alignment.