CNC Pipe Cutting Machine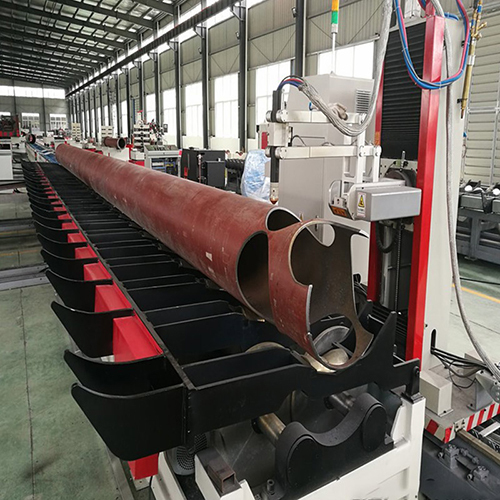 CNC Pipe Cutting Machine
Price And Quantity
Set/Sets

4999.00 - 9999.00 USD ($)
Product Specifications
Product Description
Experience Precision and Efficiency with the CNC Pipe Cutting Machine: Revolutionizing Pipe Fabrication
Introducing our state-of-the-art CNC Pipe Cutting Machine, a game-changer in the world of pipe fabrication. With its advanced features and exceptional performance, this machine takes precision and efficiency to new heights, delivering superior results that meet the highest industry standards.
The CNC Pipe Cutting Machine offers unparalleled versatility, accommodating various pipe sizes and materials. Whether you're working with stainless steel, carbon steel, or other alloys, this machine adapts effortlessly to your specific cutting needs. Its adjustable settings and cutting-edge technology ensure precise and flawless cuts every time.
Powered by CNC (Computer Numerical Control) capabilities, our machine streamlines the cutting process, enhancing both accuracy and efficiency. With precise control over critical parameters such as cutting speed, feed rate, and bevel angle, operators can achieve optimal results without any guesswork. Bid farewell to manual errors and welcome superior cut quality.
Safety is our utmost priority, and the CNC Pipe Cutting Machine is equipped with comprehensive safety features. With protective enclosures, emergency stop buttons, and automatic shutdown mechanisms, it creates a secure working environment for operators. You can trust in the machine's reliability while prioritizing the well-being of your team.
What sets our CNC Pipe Cutting Machine apart is its exceptional efficiency. By automating time-consuming tasks and optimizing cutting parameters, it significantly reduces production time, leading to improved productivity. With its high cutting speed and consistent results, you can meet tight project deadlines without compromising on quality, driving your business towards success.
Investing in our CNC Pipe Cutting Machine is a strategic choice for revolutionizing your pipe fabrication operations. With its cutting-edge technology and precise performance, you gain a competitive edge in the market and deliver superior cuts that surpass expectations. Its exceptional reliability and efficiency empower you to take on complex projects and build a reputation for excellence.
Don't settle for subpar cutting machines. Upgrade to our CNC Pipe Cutting Machine today and experience the transformative impact it has on your pipe fabrication projects. Contact us now to learn more about this innovative machine and how it can revolutionize your cutting operations for the better.